MACHINING DATA FOR NITRONIC®
Based on 1" Dia Annealed (RB 95) 5 hour form tool life using high-speed tools. Carbide tools are suggested, for rates better than 50% of Type 304. These rates are for carbide tools, Type C-2 for roughing, drilling and reaming. Type C-3 for finishing.
Suggested starting rates are:
SINGLE POINT TURNING :
Roughing
0.15" depth, 0.015"/rev feed - 175 SFM

Finishing
0.025" depth, 0.007"/rev feed - 200 SFM
DRILLING :
1/4" Dia hole

- 0.004"/rev feed - 60 SFM


1/2" Dia hole

- 0.007"/rev feed - 60 SFM


3/4" Dia hole

- 0.010"/rev feed - 60 SFM
REAMING:
Feed

same as drilling - 100 SFM
SIDE AND SLOT MILLING :
Roughing

0.25" depth - 0.007"/tooth feed - 125 SFM


Finishing

0.050" depth - 0.005"/tooth feed - 140 SFM
SIDE AND SLOT MILLING :
Roughing

0.25" depth - 0.007"/tooth feed - 125 SFM


Finishing

0.050" depth - 0.005"/tooth feed - 140 SFM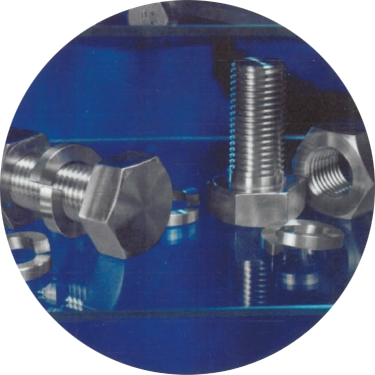 These machinability ratios must be recognized as approximate values. They are a reasonable guide to relative tool life and lower required for cutting. It is obvious, however, that variables of speed, cutting oil, feed and depth of cut will significantly affect these ratios.
The speeds are for single point turning operations using high speed steel tools. This information is provided as a guide to relative machinability. Higher speeds are used with carbide tooling.
The alloys described here work harden rapidly during machining and require more power to cut than do the plain carbon steels. The metal is 'gummy,' with chips that tend to be stringy and tough. Machine tools should be rigid and used to no more than 75% of their rated capacity. Both work piece and tool should be held rigidly; tool overhang should be minimized. Rigidity is particularly important when machining titanium, as titanium has a much lower modulus of elasticity than either steel or nickel alloys. Slender work pieces of titanium tend to deflect under tool pressures causing chatter, tool rubbing and tolerance problems.
Make sure that tools are always sharp. Change to sharpened tools at regular intervals rather than out of necessity. Titanium chips in particular tend to gall and weld to the tool cutting edges, speeding up tool wear and failure. Remember- cutting edges, particularly throw-away inserts, are expendable. Don't trade dollars in machine time for pennies in tool cost.
Feed rate should be high enough to ensure that the tool cutting edge is getting under the previous cut thus avoiding work-hardened zones. Slow speeds are generally required with heavy cuts. Sulfur chlorinated petroleum oil lubricants are suggested for all alloys except titanium. Such lubricants may be thinned with paraffin oil for finish cuts at higher speeds. The tool should not ride on the work piece as this will work harden the material and result in early tool dulling or breakage. Use an air jet directed on the tool when dry cutting, to significantly increase tool life.
Lubricants or cutting fluids for titanium should be carefully selected. Do not use fluids containing chlorine or other halogens (fluorine, bromine or iodine) in order to avoid risk of corrosion problems and contamination.