HD is High Definition, allowing laser like quality without the additional lead time.
Dross (or slag on the bottom of the cut) is minimized, requiring less clean up for further processing.
HAZ (Heat affected zone) is minimised, as the cut is very fast compared to traditional plasma cutting.
Unit will arrive in October 2018.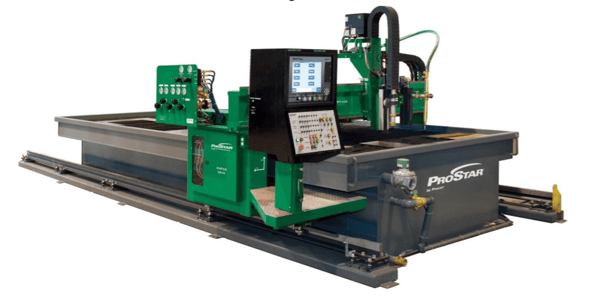 General Features of the Praxair PRS 400 HD Cutting Machine
Table size: 10 foot x 21 foot
Hypertherm HPR 800 XD Upgrade
Thickness range: 0.019 - 3" thick
Contour speeds from 1 ipm to 300 ipm
Traverse speeds 500 ipm to 1000 ipm
Plasma contour bevel station
5 Axis torch tilting
Continuous variable angle to 45º ( +/-)
Zoned DownDraft Table