High Performance Alloys, Inc. was selected as the 2021 Rural Small Business of the Year!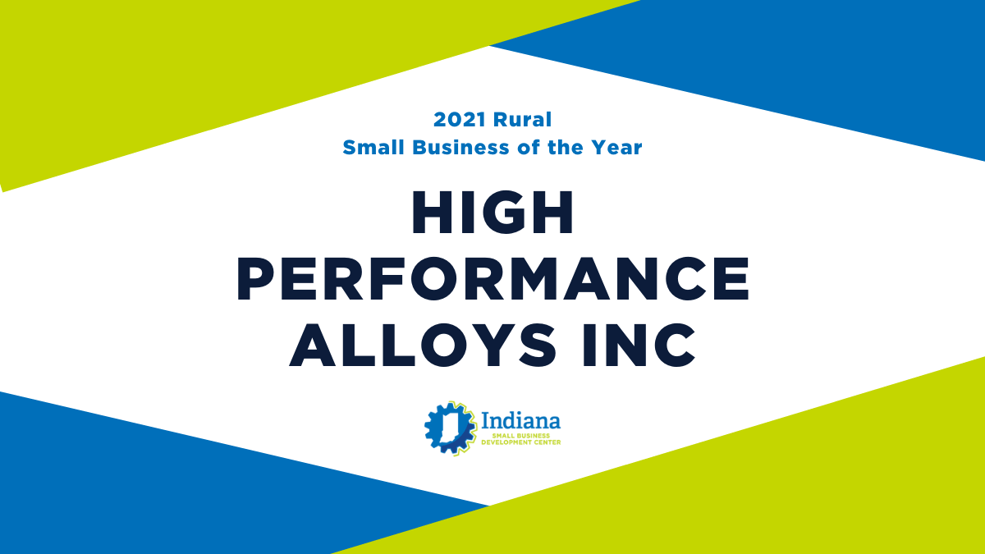 2021 Indiana Small Business Week Awards
About
The backbone of Indiana's economy, more than 529,000 small businesses employ 1.2 million Hoosiers. During National Small Business Week, September 13-17, the Indiana Small Business Development Center (SBDC) will visit nine entrepreneurs across the state to recognize their hard work and dedication to growing their businesses and strengthening communities across the state. These awards, presented in conjunction with the U.S. Small Business Administration's (SBA) National Small Business Week.

This award was presented by members of the Indiana Small Business Development Center on September 14, 2021.
Founded by Russ Kirchner in 1984, High Performance Alloys manufactures and distributes superalloys and super stainless steels to serve the needs of the aerospace, chemical processing, oil-gas, medical and food processing industries. With locations in Tipton and Windfall, the company employs more than 60 Hoosiers and serves a global customer base.
More to follow after the presentation here