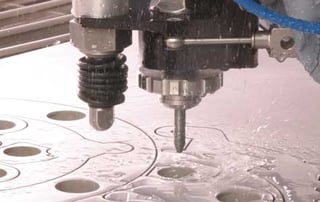 ON THE CUTTING EDGE
Coming in June 2010 HPA will have a new waterjet to help you with your cutting needs. We will specialize in semi finished 2D parts with tight tolerances and superior edge quality. We will be able to cut sheet from 0.018" up to 4" plate.
Cutting from drawings in DXF, DWG, OR IGS formats as well as many others. Drawings can also be created based on sketches of PDF files.
2 meter x 4 meter cutting bed, with longer pieces capable with indexing capability. (6' 6" x 13' bed for the rest of us).

Capable of tolerances to +/-0.005" on parts as large as a yard square. Several tolerance ranges available for every need and budget.

Superior edge quality and tighter tolerances than other more traditional cutting methods.
More economical because no scrap to deal with. Less machining required on parts because of tighter tolerances and superior edge quality.
Dynamic cutting head allows better corner control and the least amount of taper.
No heat effected region and low edge stress - perfect for High Temp and Corrosion Material requirements.
Nesting and kitting available.
Flattening upon request.
JIT service offered.
Toll cutting available.
Contact your HPA Sales Associate for a quote on your waterjet cutting needs.